"Planning for Hope"- A view inside the future Covenant Building
It looks like scribbles on a page to most, but to Covenant Community Services CEO Randy Martin the intersecting lines and mathematical equations on the pages in front of him mean something more; the highly anticipated "Headquarters of Hope" is one step closer to reality.
Today on his office floor, he and other Covenant employees got a first hand look at the future "Headquarters of Hope" building plans. The building, located at 1700 North Chester Avenue in Oildale was the old home of the Bank of America for decades…but soon will serve a much greater purpose.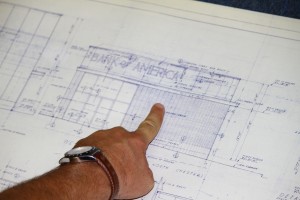 Continue to give to our "It's not a lot of money to a lot of people" Campaign so soon…Covenant can move into the "Headquarters of Hope"