Happy International Coffee Day
Covenant Community Services, Inc. (CCSI) is a California nonprofit corporation with a mission to help foster youth and former foster youth to thrive and fulfill their divine potential.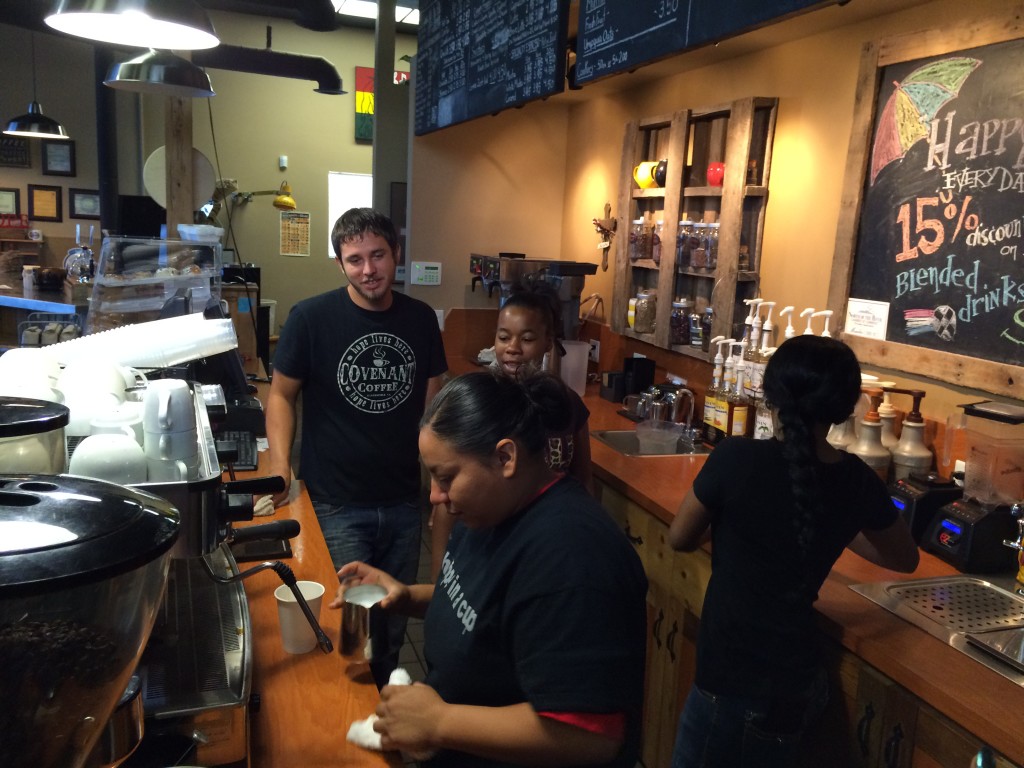 In 2008, CCSI launched Covenant Coffee as a social enterprise of the social service organization. The purpose of Covenant Coffee is employment, training, mentoring, and job development. The secondary mission of Covenant Coffee is the provision of high-quality specialty coffee to our community, and through subscriptions, to the nation.
Since 2010, Covenant Coffee has operated out of the HQ of Hope at 1700 N. Chester Avenue in Bakersfield, California. The HQ of Hope is the home of Covenant's social service operations, the coffee roasting facility, a coffee house, and KCUP packaging. Most importantly, it is the base for affordable housing services, mentoring, case management, life skills education, and supportive services for the hundreds of foster youth served.
On International Coffee Day, Covenant wanted to share an opportunity to engage and give hope. Today, we are celebrating partnerships and our desire to be a "local" organization. That is, Covenant wants to be engaged both globally and locally. To do so, we partner with like-minded missions organizations serving farmers and orphan homes around the world.
Our focus for 2020 is Tanzania. Below is information from APK. APK is the provider of our Tanzania coffee. YOu can purchase this delicious coffee and we will pass on support to APK and their endeavors. So, today, you can have impact glocally by serving foster youth in Kern County and farmers in Tanzania.
APK is a family-run, world-class coffee company.
African Plantations Kilimanjaro is the African arm of Oro Molido, a third generation coffee company founded in the heart of Colombia's world famous growing regions. We have been bringing the best practices of Colombia to blend with great coffee knowledge and the perfect soils of Tanzania since 2010.
We are the big little guys – marrying the perfect blend of experience, craftsmanship and scientific rigor that is unique in the African market.
Origin is the single most important factor in determining coffee's quality. As with wine; soil, elevation, precipitation and climate all work together to define how good coffee can be.
APK's farms on the high mesas around Mt. Kilimanjaro enjoy numerous advantages from the world's largest free standing mountain. It's volcanic and mineral rich soils are some of the most fertile in Africa and are perfect for growing premium arabica coffee. Reaching almost 6,000 meters into the sky, Mt. Kilimanjaro also holds great influence over the local weather, bringing rain and snow melt to our farms via a sophisticated system of furrows.
Our location, just a few hundred kilometers from the equator, means we have steady, year-round sun that provides consistent growing seasons. The reliable sunshine has also enabled us to use solar power as a source of electricity on all of our farms. In a region where electricity is sporadic at best, our solar system has eliminated downtime and increased efficiency.
Sustainability is at the heart of everything we do. Not only does it protect the environment that is essential to our coffee, it guarantees economic stability and social support to the communities that depend on our farms.
Specialty quality coffee is people based. It is hand-planted, hand-picked, hand-processed and overseen by specialists who are devoted to producing the best coffee possible. Place may determine a coffee's potential, but it is the people who make it great.
As a family company that puts the welfare of its workers above all else, APK knows the importance of people, and the surrounding community, in coffee. Our community focus can be seen on all of our farms, where we work closely with the local co-operatives that govern agriculture in the region. By putting locals in leadership roles, our farms quickly began to outperform prior years.
Our foundation supports the health and education of our neighboring communities. To date, we have provided clinics for easy access to medical check ups and enough corn for 38 surrounding schools.
Here is the farm it came from:
How to help and enjoy International Coffee Day
Go to our Instagram or Facebook sites and watch the Roasting Demo at 10:00 am PST.
Purchase coffee online and help us reach more foster youth. www.covenantcoffee.org
Give at www.covenantcs.net – we will send you coffee-related gifts for your donation above $20.00 – the more you give the more you get!!!!
Follow us on social media!
Share this post.