Covenant Community Services May 21st Concert update
We had a slight hiccup to the lineup for the Covenant Community Services Concert benefit on Saturday, May 21, 2022, at Salty's Banquet Hall. Due to unforeseen circumstances, we're sorry to announce that Deb Ryder; our headliner for the inaugural Covenant Community Services Concert Benefit will not be able to perform at this year's fundraising event. But, we're very happy to announce that Deb's very close friend and Grammy-nominated touring artist, Teresa James, and her band The Rhythm Tramps, have kindly accepted our invitation to step in and headline. Details for the event are below and a full description, and ticket options, are on the Covenant Community Services Eventbrite page.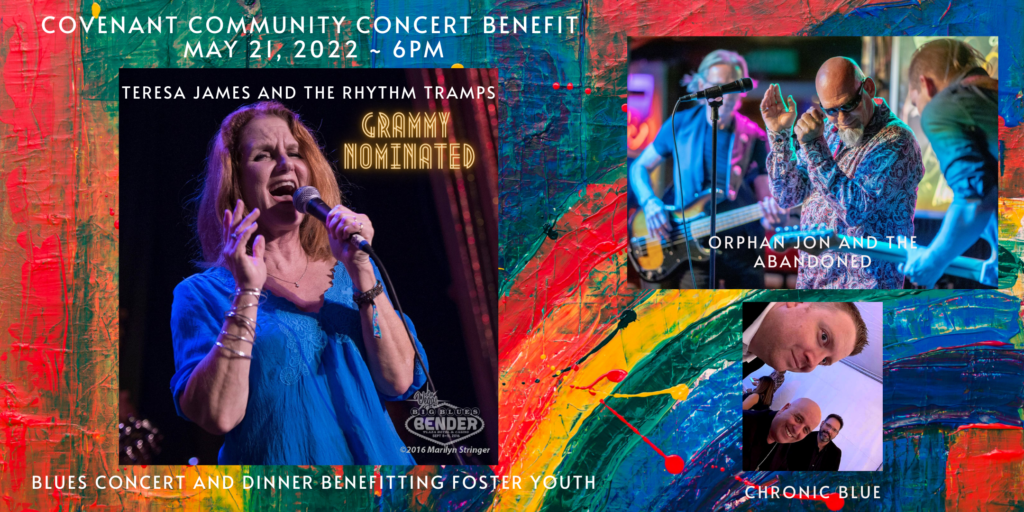 Covenant Community Concert Benefit
Covenant Community Services Inc., in affiliation with Salty's BBQ and Vintage LaNell Records, presents the inaugural Covenant Community Concert and Dinner to benefit Aged Out Foster Youth of Kern County.
The benefit concert and dinner will feature International Touring, Grammy Nominated, Contemporary Blues Artist Teresa James and The Rhythm Tramps, National Touring Roots & Blues Rock Artist Orphan Jon and The Abandoned, and Bakersfield Classic Rock band Chronic Blue. This is going to be a wonderful night of amazing live music and great food and fellowship!
Concert and Dinner Details
● BBQ Dinner is provided by Salty's BBQ. Tri-tip, chicken, chili beans, salad, roll, and sauce.
● Doors open at 5:00 pm. The Food service begins at 5:15 pm. The show starts at 6:00 pm
● Opening (6:15 to 7:00 pm) – National Touring Roots & Blues Band from Bakersfield, Ca. Orphan Jon and The Abandoned.
● Headliner (7:15 to 8:30 pm) – International Touring Blues Artist Teresa James and The Rhythm Tramps.
● Closing (8:45 – 10:00 pm) – Local Classic Rock Band Chronic Blue.
Tickets are $75.00 for a great BBQ Meal, three incredible Blues Bands, and a night of memories made while helping the Foster Youth of Kern County.
The seating capacity is 160 people. This show will sell out!
Sponsorship opportunities are available as are VIP reserved seats with Special Gifts from the bands.
TERESA JAMES & The Rhythm Tramps
Teresa and her band the Rhythm Tramps are a Los Angeles based band 6 piece band made up of players that have either played or recorded with such artists as Eric Burdon & the Animals, Bonnie Raitt, Delbert McClinton, Jimmy Reed, Jimmy Vaughan, Big Al Anderson (NRBQ), Keb Mo, Dixie Chicks, Jennifer Warnes, Taj Mahal, Tom Jones, Tower Of Power, just to name a few and have had their songs recorded by Paul Rodgers, Kathy Mattea, Eric Burdon, Tommy Castro, Marcia Ball, and others. As one critic said, "there are no clichés in this band". They move easily through Texas-style grease and blues into Memphis soul or New Orleans flavored grooves and all points in between with fun and abandonment.
ABOUT ORPHAN JON & THE ABANDONED:
Orphan Jon is an American Roots and Blues artist originally from Bakersfield, California. OJATA; often referred to by fans of Orphan Jon while touring with his band The Abandoned, was formed in 2015 by vocalist and songwriter Jon English. In the Fall of 2017, he was signed to SoCal's highly respected and well-established blues label Rip Cat Records.
Since forming, OJATA has steadily grown in popularity due in part to the high energy and musical passion they display while performing. They're a grassroots band that loves the connection they have with audiences in whatever setting. Roots and Blues is their lifeblood, and it shows in their ever-popular eclectic originals; and the few selective interpreted covers, they bring to every show. It is the band's goal to captivate the audience from the first note struck until the last chord is played while entertaining the audience both musically and visually.
Additional Background about Covenant Community Services
Covenant Community Services, Inc. is a California nonprofit 501(c)3 serving foster youth and former foster youth to restore their lives and transform generations. Covenant operates transitional housing programs, mentoring, educational and vocational services, life skills classes, case management, and mental health and wellness services in Kern County.