Brewing Hope for City's Foster Youth
If Bakersfield's Randy Martin could bottle up hope, he'd have his own reservoir.  Instead,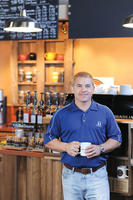 he's brewing it, one cup of java at a time, as another way of mentoring abused and neglected children trapped in the foster care system.
Covenant Coffee in Oildale, which opened a month ago, is the brainchild of Martin, an effusive cheerleader for the underdog, if ever there was one. Martin, 44, oversees Covenant Community Services, a nonprofit in Bakersfield that's focused squarely on serving the needs of foster children.
The coffee-house restaurant, which offers coffee blends from around the world, is serving freshly ground life experiences through employment and job skills to foster youth.
Coffee is sold in one-pound bags for approximately $14 each, and that money can make a significant difference in supporting Covenant foster care youth programs, said Martin, who is the CEO, aka chief encouragement officer, for Covenant Community Services.
There are upwards of 3,000 kids in the foster care system in Kern County. Every year, as many as 200 foster youth turn 18 and transition out of the cycle of entitlement and dependency, almost all of them woefully unprepared.
Covenant's mission is to help foster youth with job training, educational services, housing support, counseling, mentorship and more.
A sign above the entrance to Covenant Coffee reads 'Hope Lives Here.'
Martin believes the organization is the headquarters for optimism. "Some of these kids have horrendous back stories," Martin says. "For them to think life can be any better is a huge step. We want to bring to the top of their mindset the ideas of hope and the expectation of a positive future."
Martin, a self-described eastsider who had never lived east of Bucknell Street and the youngest of six kids in a loving family with no connection to foster care, says it all began quite simply. "I raised my hand at a church service," he laughs.
He was 27 years old and a member of Canyon Hills Assembly of God congregation when he volunteered to spend a week at Royal Family Kids camp for foster youth as a counselor. The week was life-changing, he says. "I came back home a different person. I had this breakthrough 'ah ha' moment. I had no idea about abuse and neglect, people who had no concept of God who instead of playing with toys were already parentified, and that one week could make such a difference."
The following year, his wife Kim attended the same camp, returning with similar experiences.  "I decided this is what I am going to do with the rest of my life," he says. From 1997 to 2011 the Martins served as camp directors. Today they serve as national trainers with the organization. Bothered by what he says were too many people doing foster care for the wrong reasons, he believed he had found his calling.  "If you invest in that kid, they respond," he adds. "Here we were dangling hope in front of them for a week but I thought we should do something more, take the camp concept and extend it to an organization."
Statistics are stacked against foster kids who yearn for stability and consistency.  With the help of Canyon Hills, Covenant was launched as a full-time program and for a time was a sub-office of a Central Coast family care network. Then it became locally run in 2001.
Today, the Covenant umbrella of services covers the coffee-house, a horse program involving mentorship and a media arm. It is also establishing building blocks to transitional housing.
Local businesses support his program by purchasing or ordering his coffee. Local places like Luigi's and Brookside Deli are known to carry Covenant Coffee. Donors also make a big difference.
By partnering with churches, businesses and individuals as well as other organizations, the goal is simple, according to Martin:  restoring lives and transforming generations.
"Because the community has responded, we are getting kids placed in jobs," Martin adds. "Our message to them is one of hope, that you can do it, we believe in you and you can change your life."
In the 17 years since the epiphany of the first camp experience, Martin is convinced, more than ever, that there is a better purpose for the youth than living in fear.
His proof is in the confidence on the faces of some of the young people he has mentored whose pictures he proudly shows off on his iPhone. Youth who once hid their shame and guilt in silence behind a frown, now open up about their dreams and goals.
"Take a chance on a kid, hire them, donate furniture to help them transition into living on their own," he says. "We are all caring for our neighbor. Our piece of the pie happens to be foster care."
written by Lisa Kimble for Bakersfield Magazine